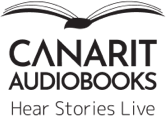 Close your Eyes.
Now imagine you're in a movie theatre. The lights are dimmed and everything around you becomes dark and peaceful. The movie begins, only nothing is shown on the screen.
You hear the story come to life through the character voices, the sound effects, and music enhancing the scenes. You find yourself immersed in the story and its sound. You are listening to a Canarit audiobook. We are Canarit Audiobooks. By working with a full cast, theatrical direction, sound effects, and specially composed music, we provide the listener with the most captivating storytelling experience.
Find our titles on Apple Books, Audible, and Amazon.
New
Pride & Prejudice
Audiobook
What we do
Unique Production Capabilities
Canarit produces immersive audiobooks and audio dramas that deliver a new standard in literary entertainment.
We provide audiobook production service.
Our audiobook production service features a full cast of professional voice actors and theatrical direction, sound effects, original soundtracks, 360° surround sound, and studio-level recording, editing, and engineering. We have studios in Los Angeles and Tel Aviv and remote recording facilities available for global productions.
Canarit has over 40 multicast titles produced and sold and is able to deliver cost-efficient high-value productions in multiple languages.
Listen to Samples
About Us
Canarit produces and distributes audio books and audio dramas that mimic the cinematic experience of live moviegoing.
Our audio content features full casts, theatrical direction, original music scores, sound effects and high-grade recording, for the most enjoyable listening and entertainment experience.
To date, we have published over 40 titles which have received great reviews from listeners and audio professionals.
Canarit is backed by private investors with financing earmarked for rights acquisitions and production. Our offices and studios are located in Los Angeles and Tel Aviv.
Leadership Team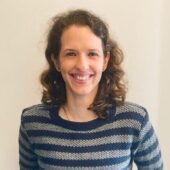 Gil Geva
After a stint at Disney, Gil joined Wicked's award-winning sound engineer on the off-Broadway production of The Widow of Tom's Hill. She was also on the sound team for the Oscar-nominated Deepwater Horizon (Best Sound Editing) and on the production team for the TV series Eyewitness. Gil studied soundtrack design at Sapir college, Full Sail University, and UCLA. She has a Masters in Arts Leadership from USC. At Canarit, Gil is in charge of creative direction and sound production.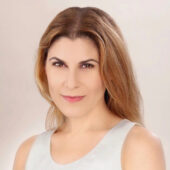 Yael Yekutiel
Yael is an experienced executive managing content and technology. As GM of SuperSpeed Labs she handled licensing and distribution and managed its multi-year partnerships with Apple, IBM and Oracle. Prior to this, Yael managed the publishing division at 33 ACROSS, developing new content formats and digital content monetization for Warner Bros, NBC Networks, Oprah Winfrey, Nike, AT&T, CBS, and ABC Digital. Yael has a degree in Marketing and Business from Tel Aviv Business College. She manages business, marketing and operations for the company.